Cyford Technologies LLC Announces Launch of New Website With Web Development, Web Design and Digital Marketing to Improve Business Globally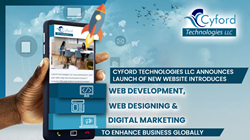 SNELLVILLE, Georgia (PRWEB)
August 11, 2021
Cyford Technologies LLC's redesigned website provides visitors with a solid overview of Cyford Technologies' web solutions and service capabilities.
Cyford Technologies LLC, which provides web solutions such as web development, web design and digital marketing to improve businesses of all sizes and strengthen their online presence, has announced the launch of its new redesigned website. The new design offers a fresh new look and is easy to navigate so that visitors can easily understand the full range of services provided by Cyford Technologies. The website is designed with customers in mind and offers service sections for the latest company news, which provide information on the customers served and the expertise for which Cyford Technologies is hired.
The website redesign helps to strengthen the Cyford Technologies company, using a refined visual identity and responsive display to create an engaging user experience on any device. The improved design, functionality and content are focused on Cyford Technologies' mission – to improve small and medium businesses and get the most out of them. "We can do what we believe on our experts. "
The new website is located at http://www.cyfordtechnologies.com/
What Cyford Technologies serves or processes. We offer a full range of services to help organizations work better. Everything from web design and web development, digital marketing, telecommunications and more. You can view our wide range of services by clicking on the link mentioned above.
About Cyford Technologies LLC's New Website, Company CEO Mr. Allen Ford said, "Our goal is to become an affordable and best-in-class digital web service solution for small or large businesses." For more Over 10 years, we've helped millions of businesses large and small globally. For more information on ordering web development services, web design services, and queries related to digital marketing services, please visit http://www.cyfordtechnologies.com.
About Cyford Technologies LLC

Cyford Technologies LLC was established in the year 2007 with a great vision to become the best IT company. We seek to be innovative to stay competitive in the global IT market. We design, build and maintain custom internet solutions.
For over 10 years, we've been building custom web apps designed for any device and built to scale. We have helped millions of small and medium businesses around the world by bringing their businesses online with SEO optimized and high ranking websites. Our web-based solution shows that the experts have years of experience.
We build lasting relationships with our customers, which motivates us to offer flexible and high quality solutions. We work seriously and deliver an impactful solution, consider deadlines and deliver before that at an affordable cost.
Share the article on social media or by email: